THE PEOPLE OF THE CAVE
by Tawfiq Al-Hakim
A play in four acts
Translated by Mahmoud El Lozy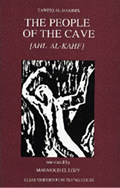 Following the publication of The People of the Cave, in 1933, Al-Hakim was hailed as a major innovator in Arabic literature by prestigious figures in the Middle East literary scene. Taha Hussein called it the first work in Arabic literature that could actually be called a play. Almost three decades later, Ghali Shoukri referred to The People of the Cave as the first genuine Egyptian tragedy.
Here is the first complete translation of one of Tawfiq Al-Hakim's most significant and controversial works, providing English-speaking directors, actors and theatre students with a text that is easily translatable into a working script.

120 pages
14x20 cm
Paperback: ISBN 977-1045-10-5